In order to ensure you stay informed about the most recent noteworthy accomplishments and breakthroughs across industries, we've assembled significant news from the month of July.
This includes a brand - new multi-million-pound Bristol railway station boosting connectivity, HS2 celebrating the UK's heaviest bridge drive near Lichfield and Drax being given the green light for a new £500 million underground pumped storage hydro plant.
​
Rail | New multi-million-pound Bristol railway station boosts connectivity
A brand-new rail station opened on 31st July, benefitting passengers in Bristol as well as local businesses.
Avonmouth's Portway Park and Ride station stands as a remarkable achievement, emerging through substantial financial support from both central and local government funding, amounting to multi-million pounds.This station marks a significant milestone in Bristol's history, being the first railway station to be inaugurated in the city after nearly a century.
Marvin Rees, Mayor of Bristol, commented: "I am incredibly proud and delighted to open Bristol's first railway station in 96 years. Portway Park and Ride station will offer local people and commuters an efficient and sustainable travel option. Having boosted the number of free parking spaces at our park and ride site, it offers commuters more options to park up and catch a train or the bus.
"Completion of the railway station highlights our commitment to developing modern and accessible travel solutions. As we look towards a future of improved connectivity through a mass transit system, Portway Park & Ride is a key step on our journey towards a better connected Bristol and South West.
Read more here
​
Energy | World's largest battery energy storage park approved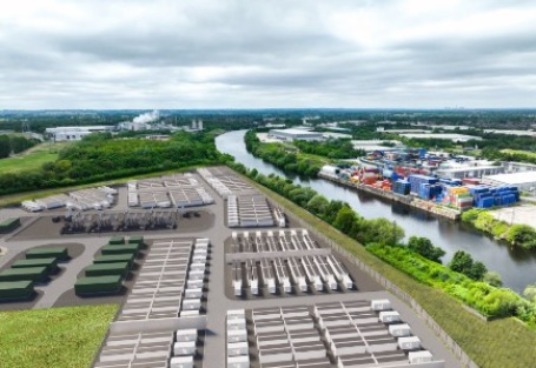 Carlton Power, the energy infrastructure developer, has received local planning approval to construct what it asserts as the globe's most extensive battery energy storage project.
Aiming for a final investment decision, the 1 GW energy storage scheme is set to be established at the Trafford Low Carbon Energy Parkin Greater Manchester, formerly the location of the Carrington coal-fired power station until 1991.
Assuming all goes well, construction of the £750m battery storage project is anticipated to commence in the first quarter of the upcoming year, with commercial operations scheduled to start by the end of 2025.
Founder and chief executive of Carlton Power, Keith Clarke, commented: "With the approval of the BESS, this brings the total investment value of the site to £2bn, which will deliver significant economic benefits to the Greater Manchester region and help to deliver the regional net-zero targets.
"The investment in the Trafford Low Carbon Energy Park over the next 2-5 years demonstrates Carlton's long-term vision and commitment to re-energising the Trafford site."
Read more here
​
Construction | £170m boost to prepare Sizewell C site for construction
A significant boost of £170m from the Government has been allocated to the Sizewell C projects, aimed at accelerating the preparations for the construction of the major nuclear power station.
The funds previously allocated for development will be utilised to prepare the Sizewell C site for forthcoming construction, acquire essential components from the project's supply chain, and bolster the workforce's expansion efforts.
During the peak of its construction phase, Sizewell C is expected to create job opportunities for 10,000 individuals across the nation, while also implementing supply chain strategies to ensure that 70% of the value of construction contracts benefits UK businesses.
Read more here
​
Highways | Skanska lands £450m Lower Thames Crossing deal
Skanska has been named as the bidder preferred for the £450m Kent Roads contract on the Lower Thames Crossing Project.
The contractor successfully outperformed three rival companies to secure the deal: BFV JV, consisting of BAM Nuttall, Ferrovial Construction (UK) Ltd, and VINCI Construction Grands Projets, as well as Costain and Kier Eiffage (KEJV), which comprises Kier Highways and Eiffage Génie Civil.
The Kent Roads contract will encompass the construction of the southern section of the route, connecting the A2/M2 to the tunnel approach. This significant project includes the development of nearly four miles of new road and structures, the creation of one of the widest green bridges in Europe, the establishment of a new public park, and the implementation of 12 miles of new or enhanced pathways for pedestrians, cyclists, and horse riders.
National Highways have said that awarding the contracts ahead of consent being granted for the project will allow its delivery partners as much time as possible to collaborate and carry out the detailed design work that seeks to reduce the impact of construction on the local community and the environment.
Doing so will also allow time to maximise the opportunities to use innovative low-carbon technologies and projects.
Read more here
​
HS2 | HS2 celebrates UK's heaviest bridge drive near Lichfield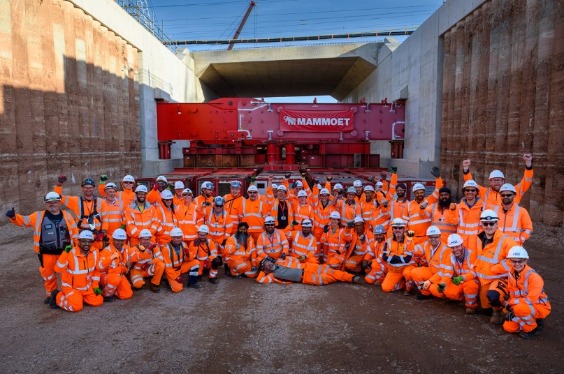 HS2 achieved a remarkable feat by successfully executing the UK's most substantial drive to install an intersection bridge structure beneath the West Coast Main Line, situated at Fulfen Wood near Lichfield.
This impressive 56-meter long and 19-meter wide structure now facilitates the seamless passage of Britain's new high-speed railway, enabling it to run below the bustling existing railway line on its journey north of Birmingham Curzon Street Station, all the way up to Crewe.
Senior Project Manager at HS2, Caroline Warrington, commented; "This huge feat of engineering - the UK's heaviest single span bridge drive - is our latest big milestone as we approach peak construction on Phase One of HS2. We're making fantastic progress on this section of the route, with over 9,000 people working on the project in the Midlands and over 29,500 on the whole project, providing a vital boost for British businesses and jobs."
Approximately 300 individuals employed by HS2's civil contractor,Balfour Beatty VINCI, have completed the task.A dedicated team of 200 people are tirelessly working around the clock to relocate the bridge, backfill the area surrounding it, and reinstate the railway, all with the aim of reopening it next week.
Read more here
​
Civil Engineering | £300m Man City stadium extension approved
Manchester City FC has received approval for a £300m expansion of its Etihad Stadium.
Main construction works are scheduled to begin on-site in November, withJohn Siskhighly anticipated to be appointed as the main contractor.
The project aims to increase the stadium's capacity from 54,000 to 60,000, offering an exceptional fan experience and establishing it as a premier year-round entertainment and leisure destination.
The comprehensive plans encompass various interconnected all-weather facilities seamlessly integrated into the stadium, with a focus on an extended North Stand featuring a larger, single upper tier above the existing lower tier.
The project is expected to be finished and ready for use during the 2025/26 football season.
Read more here
​
Water | Anglian Water invests nearly £10 million to prevent flooding
Anglian Water has committed to investing nearly £10 million in Watton's local environment this year to enhance its ability to cope with the challenges posed by a rapidly changing climate.
The planned improvements form a comprehensive program aimed at bolstering resilience across the East of England, an area expected to face the most pronounced impacts of the climate emergency, including droughts and floods, compared to any other region in the UK. The local community's drainage and sewer systems channel water to Watton WRC (Water Recycling Centre), where it undergoes thorough cleaning before being safely returned to the environment.
During extreme weather conditions due to heavy rainfall, the sewer network and WRC can become swiftly overwhelmed, leading to the risk of flooding. The proposed investments seek to address and mitigate such vulnerabilities, ensuring the long-term sustainability and adaptability of the local environment.
Read more here
​
Energy | Drax given green light for new £500 million project, supporting 1,000 job opportunities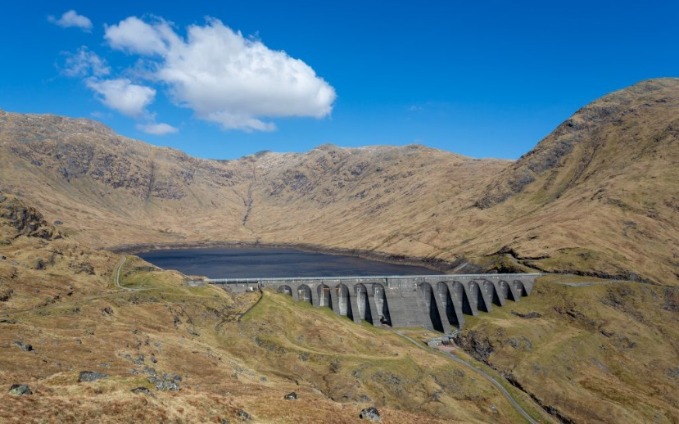 Drax Group, a renewable energy leader, has successfully obtained development consent from the Scottish Government for its innovative project. The plan involves constructing a cutting-edge underground pumped storage hydro plant at its current Cruachan facility in Argyll, with an estimated investment of approximately £500 million.
Given support from the UK Government, the upcoming plant aims to become operational by 2030, potentially generating nearly 1,000 job opportunities throughout its development phase.
Drax Group CEO, Will Gardiner, commented; "This is a major milestone in Drax's plans to build Britain's first new pumped storage hydro plant in a generation.
"These plants play a critical role in stabilising the electricity system, helping to balance supply and demand through storing excess power from the national grid. When Scotland's wind turbines are generating more power than we need, Cruachan steps in to store the renewable electricity so it doesn't go to waste."
Read more here
​
HSQ Recruitment is driven by a deep passion for the industries we cater to, where we have the privilege of witnessing revolutionary projects, state-of-the-art technologies, and transformative advancements that shape the industry's future, month after month. In July, we invite you to join us as we delve into the latest and most pioneering innovations, projects, and transformations currently taking place. Together, let's explore the forefront of industry progress.
​
​
​
​
​