In May, the Construction, Infrastructure, Rail, and Water sectors experienced substantial advancements, breakthroughs, and project developments, showcasing remarkable progress. Notably, Laing O'Rourke made an impressive decision to exclusively utilise low-carbon concrete, demonstrating their commitment to environmental sustainability. Water companies made a significant pledge of £10 billion to address and minimise waste outflows, showcasing their dedication to responsible resource management. National Highways reaffirmed their focus on local improvements, outlining their plans to install thousands of EV chargers.
To ensure you stay informed about the latest developments that have a profound impact on various industries, we have compiled a list of the most significant news from May.
​
Construction | Laing O'Rourke Announce their decision to only use Low Carbon Concrete
Laing O'Rourke recently announced that they would switch to 100 per cent low-carbon concrete on all UK projects that have begun construction from April this year.
The move to low-carbon concrete is expected to reduce embodied carbon by 28 per cent, based on the company's use of concrete last year, which equivalated to planting 120,000 trees.
Laing O'Rourke are committed to becoming a net zero company before 2050, they stated that their greatest challenge is reducing their Scope 3 emissions relating to embodied carbon in purchased materials. Scope 3 emissions are defined under the Greenhouse Gas Protocol, the world's most widely used greenhouse gas accounting standards.
Read more here.
​
Civil Engineering | 150m long HS2 viaduct gets the go-ahead in Birmingham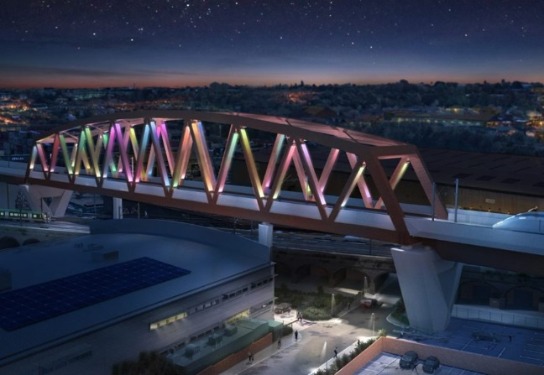 Birmingham City Council approved plans for the 150m long HS2 viaduct into Birmingham's new Curzon Street Station.
The structure of the bridge consists of a gently curved truss in weathering steel, which is due to carry HS2 over the Victorian brick rail viaduct below. The bridge will reach 40m into the air, resting at least 17 metres above ground.
David King, Senior Project Manager for HS2, commented; "Our job now is to start construction of the bridge on the ground before launching it into its final position over the existing Victorian brick rail viaduct at around 17m above the ground.
"This is an exciting construction method, which we believe will be among the longest bridge launches of its type ever delivered in the UK."
Read more here.
​
Rail | Planning permission granted for Cameron Bridge station
Network Rail announced that they have secured planning permission for the construction of the new Cameron Bridge station, as part of the ongoingLevenmouth Rail Link project.
Cameron Bridge station will have 125 car parking spaces with provision for electric vehicle charging, accessible spaces and cycle storage. The station is one of two new stations being built on the new rail link, with the other based at Leven now under construction.
Programme Manager for Network Rail, Tommy McPake, commented; "The granting of planning permission for Cameron Bridge station is yet another exciting step forward for the project. It takes us closer to getting the full station development built and opened for public use."
"Every step forward is exciting, but the award of planning consent is a milestone that moves us significantly closer to opening the rail link for the people of Levenmouth.
Read more here.
​
Water | Water companies pledge to invest £10bn to reduce waste outflows
Water companies across the UK have pledged to invest £10bn to reduce waste outflows, after apologising for dumping billions of litres of sewage into rivers and seas.
The water industry is planning to make its biggest investment in storm overflows, taking part in a major programme to reduce spills. Later in the summer, a detailed National Overflows Plan will be published, explaining each company's approach to improving their overflows.
In the plan, companies will detail their plans to install the equivalent of thousands of new Olympic swimming pools to hold surges in rainwater that would otherwise overload the system. Firms will also increase the capacity of sewage treatment works, to allow them to treat high volumes of rainfall and sewage.
Chair of Water UK, Ruth Kelly, said: "We have listened and have an unprecedented plan to start to put it right. This problem cannot be fixed overnight, but we are determined to do everything we can to transform our rivers and seas in the way we all want to see"
Read more here.
​
Infrastructure | Countryside Partnerships win £99m London South Kilburn estate job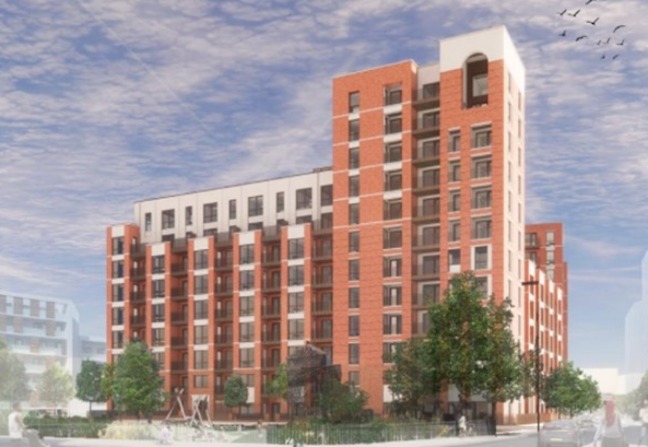 North London's Brent Council announced that they have selected Countryside Partnerships as their preferred bidder to build over 200 new homes on the South Kilburn Estate. The second Countryside Partnerships project in South Kilburn will sit alongside the North West Quarter Development, delivering 547 homes.
The new scheme will prioritise social housing, with the first homes being delivered by summer 2025 to accommodate existing South Kilburn residents.
Cabinet Member for Regeneration, Planning and Growth at Brent Council, Cllr Shama Tatler, commented; "We're now almost halfway through our 15-year regeneration programme for South Kilburn and can't wait to get started on the next phase with Countryside Partnerships.
"This project will create more than 200 much-needed new homes, almost half of which will be for existing South Kilburn residents."
Read more here.
​
Highways | National Highways confirms installation of thousands of EV chargers for UK motorways
Plans to install thousands of EV chargers across UK motorways were confirmed through National Highway's new strategic plans for 2025 to 2030. National Highways, which operates 4,500 miles of road networks, is planning to install over 2,500 rapid EV chargers within the five-year period.
Alongside installing brand-new chargers, the company has a high priority of improving accessibility through digital technologies. Predicted by the Local Government Association, estimate that there will be up to 11 million Evs and hybrid vehicles in the UK by 2030. Due to this, there will be a rapid increase in the need for additional charging infrastructure.
Read more here.
​
Rail | London Power Tunnels sees record pour of cement-free concrete driven by young engineers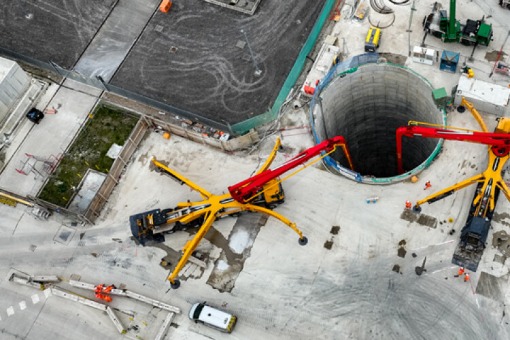 National Grid and contractor Hochtief-Murphy Joint Venture have completed the world's largest ever continuous pour of Wagner's Earth Friendly Concrete, on the 31bn London Power Tunnels project.
Supplied by Capital Concrete, 736 cubic metres of the cement-free base of the 55-metre deep tunnel drive shaft at National Grid's Hurt Substation in South London was poured. The single continuous pour took over 11 hours to complete.
The use of the Earth Friendly Concrete was driven by a team of young engineers on the project, supported by Hochtief-Murphy Joint Venture consultants at Aecom, Mott Macdonald and WSP, following trials at various London Power Tunnel sites.
Onur Aydemir, National Grid Project Direct, commented: "We are always looking for new ways to innovate and to now be using this carbon-savingcement-free alternative to conventional concrete at scale and on-site is exciting. This world record-breaking pour also offers the opportunity to evaluate the technology ahead of future possible rollout across our network in England and Wales, demonstrating our ambition to achieve net zero construction across all our projects by 2025/26."
Read more here.

Water | Anglian Water's new investment aims to protect resilient water supplies in Meppershall
Anglian Water is due to begin work on an £8.5 million upgrade to the water network in Meppershall. The new project will secure resilient water supplies for people in Bedfordshire, keeping water systems flowing sufficiently for years to come.
The new scheme is expected to be completed by the end of the year and will see almost 9km of new water pipers being installed between Flitton and Meppershall. The new investment will form part of Anglian Water's Water Resources Management Plan, which details their plans to maintain water supplies across the East of England for decades to come.
Customer Experience Coordinator for the project, Becky Housden, commented; "We know that if we don't act now, we won't have enough water to goaroundfor future generations. That's why we're already investing more than half a billion pounds into laying hundreds of kilometers of new, interconnecting pipes, that will bring water from the wettest areas in the north of our region to the driest areas in the south and east by 2025."
Read more here.
​
Construction | Balfour Beatty secures £42m Little Horsted substation contract
Balfour Beatty has secured a £42m contract from National Grid to construct the Little Horsted Substation Grid Supply Point in East Sussex. As part of a two-year contract, Balfour Beatty will design and build a new 400-kilovolt substation as well as two new terminal towers. These will support electrical conductors transmitting high-voltage electricity to the Little Horsted Substation Grid Supply Point.
The new substation will form a vital part of the National Grid's 'Little Horsted Connection Project' which allows local electricity distributor,UK Power Networksto connect with the National Grid. Doing so will improve the electricity supply in East Sussex.
Work on the substation is due to start in early 2024, with completion expected in Autumn 2025. The project will employ a workforce of up to 120 people, including apprenticeship and graduate opportunities.
Read more here.
​
At HSQ Recruitment, our passion lies in the industries we serve, where we get to witness groundbreaking projects, advanced technologies, and transformative developments that shape the future of the industry, month after month. We invite you to join us this May as we explore the latest and most cutting-edge innovations, projects, and transformations that are currently underway.
​
​
​
​