April marked significant progress in the Construction, Infrastructure, Rail, and Water sectors, as noteworthy advancements, breakthroughs, and project developments came to fruition. Among the most impressive achievements were: HS2's multi-billion-pound boost for UK businesses to support thousands of high-skilled jobs, the UK and Netherlands to build the world's largest multi-link powerline and Anglian Water's investment of £1 million into Grays' sewer network.
To keep you up-to-date with the latest developments that are making a significant impact across industries, we have compiled a list of the most impactful news from April.
​
Rail | HS2's multi-billion-pound boost for UK businesses supports thousands of high-skilled jobs
HS2 is making a significant contribution to the country's economy by providing support to over 2,000 businesses during challenging economic conditions. The latest figures released by HS2 showcase the substantial impact of the project, with tier two subcontracts tota;ling an impressive £7.9bn awarded to companies across the UK. Notably, small and medium-sized enterprises (SMEs) have secured orders worth £3.6bn, demonstrating the project's commitment to fostering growth and opportunities for businesses of all sizes.
These subcontract awards have been instrumental in providing a lifeline to businesses across various sectors, including construction, engineering, consultancy, and product manufacturing, among others. The boost in subcontracting opportunities has allowed these companies to access new revenue streams, expand their operations, and create jobs, thereby contributing to the overall economic resilience of the UK.
Chief Commercial Officer at HS2, Ruth Todd commented; "We're working with specialist businesses and suppliers from across the UK to deliver Britain's new high-speed, low-carbon railway. These firms are providing world-leading consultancy services, engineering solutions and products, with many going on to secure multiple contracts. Given the size and longevity of HS2, we're able to provide businesses with a lasting pipeline of work, which is boosting confidence and prompting investment despite the challenging economic climate."
Read more here
​
Water | Anglian Water to invest £1 million into Grays' sewer network
Anglian Water is embarking on a vital project to improve the resilience of the sewer network and prevent flooding in Grays. The project involves relining more than 840m of sewer pipe, with an investment of £1 million into the town's sewer network. Work on the project is scheduled to commence in June and is expected to be completed by October 2023.
Project Manager, Lee Forth, commented; "Damaged pipes put the sewer network under a lot of pressure, which can result in burst sewer pipes. If repairs are not made in good time, this can cause a loss of drainage and toilet facilities for customers, as well as risking flooding and pollution in the natural environment.
"That's why it's really important that we carry out this work to reline the sewer network in Grays. This will prevent any disruption in sewerage services for local customers, as well as protect local rivers and wildlife by minimising the risk of pollution."
By undertaking this project, Anglian Water is demonstrating its commitment to protecting the local community and the environment. The relining of the sewer network in Grays will prevent any potential disruption in sewerage services for local customers and minimise the risk of pollution to local rivers and wildlife.
Read more here
​
Construction | Manchester City submit plans for £300m stadium expansion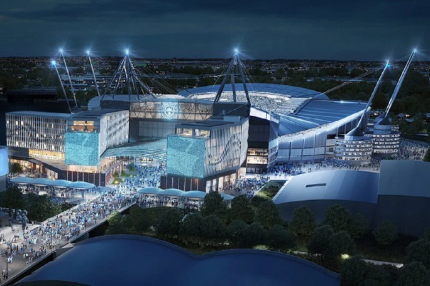 Manchester City Football Club has unveiled its ambitious plans for a £300m expansion of the Etihad Stadium, having submitted the proposals to the local council. The project aims to increase the stadium's capacity from 54,000 to 60,000, providing a "best-in-class experience" for fans with year-round entertainment and leisure destinations.
Manchester City Operations Managing Director, Danny Wilson commented on the project: "Ensuring our local community benefit is a key priority and we believe these proposals will deliver long-term economic and social opportunities, building on the regeneration work delivered in East Manchester by City Football Group since 2008."
Proposed plans for the project include:
Sky bar with views overlooking the pitch

Stadium roof walk experience

A covered City Square fan zone, with a capacity for 3,000 people

Variety of food and drink outlets

New club shop

Museum

400-bed hotel
Manchester City Football Club's proposed expansion of the Etihad Stadium is a testament to the club's commitment to providing its fans with world-class facilities and experiences.
Read more here
​
Infrastructure | Laing O'Rourke Complete superstructure for Everton's new stadium
Laing O'Rourke has achieved a significant milestone in the construction of Everton's new stadium at Bramley Dock in Liverpool. The company has completed the superstructure of the stadium, which includes all four stands built to their full height. The final steelwork and terracing units have been installed on top of the east stand, marking the momentous 'topping out' ceremony and speeches.
Project Director at Laing O'Rourke, Gareth Jones said; "The ceremony is traditional in the construction industry when a structure reaches its highest point. When we finish the last piece of section of steel or in this case concrete slab, we pass a fir tree over the structure, which is an ancient tradition and is said to being good luck and prosperity to the occupants for many years to come."
Laing O'Rourke's next steps involve completing the roofing structure on the west and east stands, while the initial fit-out has commenced simultaneously on numerous levels of the main two stands. The company is dedicated to delivering a top-of-the-line stadium for Everton fans, which is due to be completed in 2024 and host its first match in August.
The project, which is due to be finished in 2024, will begin to hold matches in August.
Read more here
​
Rail | Network Rail to begin £3.5m programme to improve Scotland railway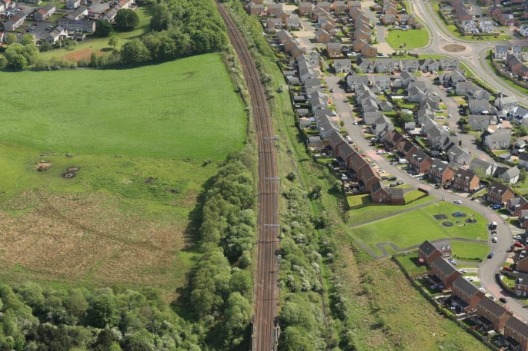 Network Rail is beginning to gear up to start a £3.5m programme that aims to improve the weather resilience of the railway between Croy and Dullatur.
Spanning over nine months, the project will include installing high-strength mesh, soil nails and rock bolts on slopes in order to prevent washouts and rockfalls. The project team at Network Rail have started to clear vegetation and will then soon begin to upgrade drainage systems.
Senior Programme Manager at Network Rail, Jeremy Spence, commented; "As part of the works, we will be utilising QTS specialist rope access operatives, alongside our plant and machinery, to ensure that this project is carried out safely and efficiently.
"Our team will work hard to minimise the impact that these works may have on the neighbouring communities and the passengers and commuters who use this line."
By implementing these upgrades, Network Rail aims to increase the weather resilience of the railway, ensuring that the service operates smoothly in challenging weather conditions. The programme is expected to enhance safety and reliability, providing passengers with a more consistent and efficient rail experience.
Read more here
​
Energy | UK and Netherlands to build the world's largest multi-link powerline
The UK's energy supply is set to receive a major boost with the construction of the world's largest multi-use electricity line, which will run under the North Sea. Known as "LionLink", the £1.8bn project will connect the UK and the Netherlands via offshore wind farms, providing clean, affordable, and secure energy to over 1.8 million homes, equivalent to more than the combined populations of Birmingham and Manchester.
This innovative powerline is set to revolutionise the way the UK imports and exports energy, cutting household bills while enhancing the country's energy security. The LionLink is only the second of its kind in the world, with the first being built by Germany and Denmark, but it is far more powerful, with the capacity to carry over four times more electricity than the first line, making it the largest of its kind in the world.
The powerline that runs across the border will only be the second of its kind in the world, with the first being built by Germany and Denmark. The LionLink will be able to carry more than 4 times the amount of electricity than the first line, making it the largest of its kind in terms of capacity anywhere in the world.
Read more here
​
Highways | Transport For London sets out plans to transform Catford town centre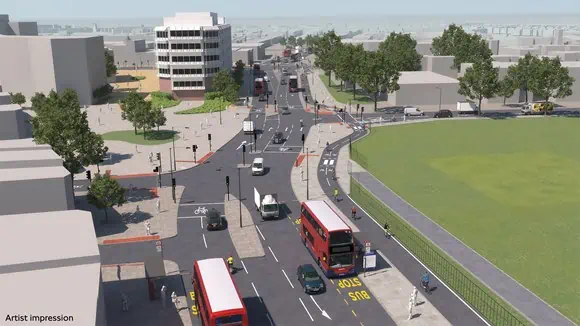 Transport For London is looking for public opinion on their newly unveiled plans to transform Catford Town Centre.
Aiming to reduce road danger and make it easier for people walking and cycling in the area, Transport For London is proposing multiple changes, which include simplifying the road network by removing the one-way system around Plassy Island, making it two-way. Making these changes will make significant improvements for road users.

Proposed changes for the area will include:

A new two-way segregated cycle lane along the new section of Catford Road and new segregated cycle lanes along Rushey Green between Catford Road and Brownhill Road

A wider northbound bus lane on Rushey Green between Brownhill Road and Wildfell Road

Advanced Stop Lanes and signalised early release for cyclists on all arms of the new junction of Catford Road, Sangley Road and Bromley Road

Wider footpaths between Catford Bridge station and the town centre

Three new pedestrian crossings by Catford Bridge station, Sangley Road at the junction with Plassy Road and Rushey Green's junction with Brownhill Road, as well as improvements to existing pedestrian crossings

Plans for new tree planting and enhancements to the appearance of the town centre

The relocation of some bus stops in the town centre. Removing the need for some bus routes to travel around the gyratory system would also make some bus journeys quicker
Read more here
​
Civil Engineering | Network Rail launches search for £3.5bn framework
Network Rail has launched a brand new search for contractors to carry out a £3.5bn infrastructure and capital works project in its Eastern Region.
Network Rail Infrastructure has released tender documents for the Eastern Routes Partnership (ERP). The initial framework is set to last for five years, including a two-month mobilisation period, but Network Rail has the option to extend it for an additional five years.
The tender is divided into four lots, with the largest valued at over £1bn and covering buildings and civils. Other significant lots include £852m for signals and a £497m lot for distribution and plant. Generalist and specialist works have been separated into different lots.
According to Network Rail, the ERP is part of an "ecosystem" in the Eastern Region, which may encompass small schemes, reactive works, and alternative options for standalone multidisciplinary enhancements, major projects, or programs.
Read more here
​
At HSQ Recruitment, our passion lies in the industries we serve, where we get to witness groundbreaking projects, advanced technologies, and transformative developments that shape the future of the industry, month after month. We invite you to join us this April as we explore the latest and most cutting-edge innovations, projects, and transformations that are currently underway.
​
​
​
​