​In January we saw new innovations, transformations and projects come to light in the Construction and Engineering industry. From Anglian Water installing a new storm tank to protect local rivers to the construction of the Levenmouth Rail Link beginning by Bam Nuttall. Below we round up the top news in January that is setting pathways for these sectors in 2023.
​
Civil Engineering | £1.4BN Transformation project for Manchester Park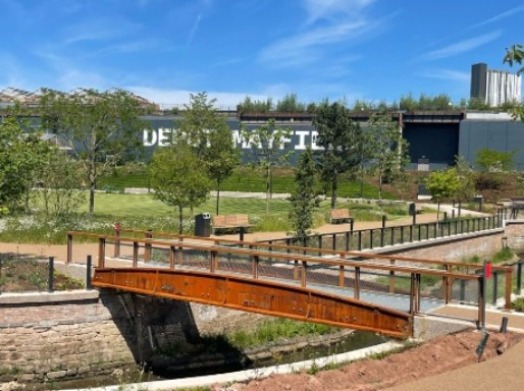 ​Mayfield Park in Manchester has been transformed through a brand new £1.4bn regeneration project. Acting as the lead civil and structural engineer, Civic Engineersacted on the delivery stage of the project. The restoration project for the park had a significant focus point on carbon-saving and re-using historic structures of the park.
To re-use as much of the park's historic structures, Civic Engineers re-used cast iron beams that were previously used on the culvert, these have gone to building new bridges in the park. The park will include a new play area that will feature rope bridges, crawl tunnels and wheelchair access to cater for everyone.
Julian Broster, Civic Engineers director and Mayfield Design team lead, commented: "In our approach to the development of Mayfield, we saw a real opportunity to use our progressive low carbon engineering methods to reinstate the River Medlock as an authentic natural geographic feature, especially as it is set in a wider urban landscape."
Read here to find out more.
​
Highways | Levelling up funds to improve roads, junctions and bridges across the UK
10 projects across the UK will be supported by the Government's £1.7bn 'Levelling Up Fund'. Projects on this fund include junction improvements, road dualling and bridge renewals.
Projects to be undertaken under the 'Levelling Up Fund' are:
Liverpool, £37M to transform transport through new walking and cycling routes. This project will include junction improvements to increase connectivity around the city

Durham, £20M to improve the A68, transforming the Locomotion tourist attraction and reopening the Whorlton bridge. This will project will create new jobs and connect communities together.

Falkirk, £20M to upgrade the Westfield Roundabout. Improving traffic infrastructure, this project will reduce traffic pressure and improve traffic flows.

North Ayrshire, £24M to assist in improving the key road network. This project will provide greater access to job opportunities in the area, through better connectivity.

Lincolnshire, £20M to improve the A16 corridor. This project will reduce congestion and improve walking and cycling facilities in the area.

Plymouth, £19.9M to improve transport. This project will introduce electric vehicle charging points, increase parking capacity, create a walking and cycling facility, upgrade the Woolwell roundabout and improve capacity on A386 Tavistock Road.

Nottingham, £18M to fund transport projects. These projects include making streets more accessible, expanding the city's electric vehicle charging network and a new 'School Streets' programme and promoting healthy and sustainable ways to travel to school.

Birmingham, £19M for the A457 Dudley Road. This project will boost public transport, reduce congestion and cut journey times by making it fit for future use.

Pontypridd, £11M to improve connectivity. This project includes creating a vital link to the M4 and the Rhondda Valleys, improving connectivity and benefiting cyclists and pedestrians.
James Rowlandson, Durham County Council cabinet member, commented on the Levelling Up Fund ; 'We are delighted to have secured Levelling Up funding which is helping Locomotion expand its visitor offer and enhancing active travel and connectivity; thereby delivering economic, environmental and health benefits.'
Read here to find out more.
​
Rail | HS2 prepares for construction on Euston Station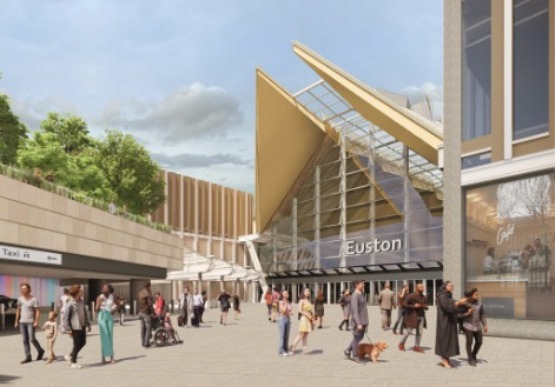 ​HS2 have begun preparatory works for the construction of the brand-new HS2 station at Euston. At the end of last year, HS2 revealed new images of the Euston station design and the number of platforms of the station was reduced from 11 to 10 to allow construction to be completed in one phase.
Work has begun between Upper Woburn Place and Gower Street between both directions of Euston Road, Which will run all the way through to mid-February.
TFL director of network management and resilience, Carl Eddleston stated; 'We're working with HS2 to minimise the disruption caused by their construction work for people travelling in the Euston area in the coming months and years. We're doing all we can to minimise the impact on drivers, public transport users and people walking and cycling'
Construction for the project will include the creation of a new utility corridor, piling of the station box structure, demolitions, relocation of the London Underground traction sub-station and a new six-storey site accommodation block.
Read here to find out more.
​
Construction | Plans submitted for £1.9bn Birmingham Scheme
Plans have been submitted by Lendlease for the brand new redevelopment of the Smithfield Market site based in Birmingham city centre.
50 new buildings will form the base of the master plan, drawn up by architect Prior + Partners. Plans for the Birmingham scheme will include two public squares named 'Festival Square' and 'Market square', forming a new connection between Bull Ring, Digbeth and the Chinese quarter. The planning also sets out plans for 3,500 homes in the area, including almost 1.3m sq ft of shops and workspace.
Work on the site could start to commence this year, with the first phase of the building beginning construction by the end of 2024 for residents in 2028.
Read here to find out more.
​
Water Industry | Anglian Water to install new storm tank to protect local rivers
On 23rd January, Anglian Water began work on installing a new storm tank based in Woodhall spa. The new storm tank will be installed in line with new environment agency regulations, whilst also upgrading equipment in order to strengthen the current water treatment processes in place.
The function of the storm tank includes capturing an additional 292,000 litres of stormwater during adverse weather conditions and flooding. This storm tank will treat the water before it is returned to its nearby water course. The storm tank forms part of a larger programme of work, costing over £100 million, increasing stormwater storage across the East of England.
Regional Treatment Manager, Stuart Robson, Commented; 'We know how important rivers and the wider environment are to our customers and local communities. We're really pleased that this scheme will help to protect nearby rivers and increase our resilience to climate change, by helping us make sure the wastewater is treated to an even higher standard than usual before it's returned to the natural environment.'
Read here to find out more.
​
Utilities | London raw water tunnel refurbishment contract awarded by Thames Water
Barhale has signed a £9M contract with Thames Water to refurbish raw water tunnels in North and West London. The project will involve Barhale inspecting 35 KM of raw water tunnels. Forming concentrations across the tunnel network, debris, silt and invasive species will be removed.
Director of Barhale, Phil Cull, commented on the contract; 'This is a hugely important part of London's water infrastructure and we are delighted to get the go ahead from Thames Water. We have built a huge amount of expertise and experience on the Thames Water network and to be selected on this project is great vote of confidence in our team's capabilities'
The project carried out by Barhale will also include carrying out inspections, replacements and refurbishments of 2.4m diameter internal valves at various sites.
Read here to find out more.
​
Rail | Construction of Levenmouth Rail Link begins by Bam Nuttall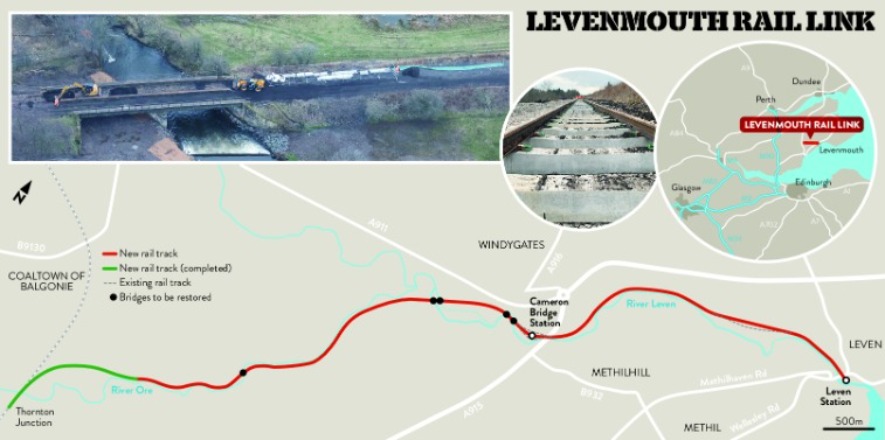 ​Construction has begun of Cameron Bridge station a part of two stations, being built for the Levenmouth Rail Link Project for Transport Scotland.
Contractors working together on the project involve:
Rail Systems Alliance Scotland
Work on the project, which was given the green light in January 2022, involves reinstating the railway line that connects the seaside town of Leven with Thornton Junction. The project also will involve reinstating 19 KM of track, including the construction of two new stations to be based at Leven and Cameron Bridge.
The project is expected to take a total of 10 months to be constructed, with the new station opening in Spring 2024.
Read here to find out more.
​
Infrastructure | Major role in TFL infrastructure jobs secured by Jacobs
Engineering services company Jacobs has secured a role on the Transport for London contract, to provide consultancy support to capital delivery teams. Transport for London has several large infrastructure projects under construction.
Kate Kenny, Jacobs people and places solutions senior vice president commented; 'Working collaboratively with TfL, Jacobs brings wide-ranging capability from across the company to benefit the Capital Program and will help TfL provide additional staff development opportunities through joint knowledge sharing and mentoring.'
Jacobs will provide consultant support to the capital delivery team on projects including:
Station improvements

Road improvements

Asset maintenance

Line upgrades

Systems

Commercial development

Major engineering projects

Healthy streets
Read here to find out more.
​
We are passionate about seeing new projects, technologies and developments innovate the Construction and Engineering industries we work within. Join us next month when we take a look at the newest and latest developments that happen in the industry for February.
​
​
​