​In November we saw new innovations, campaigns and projects come to light in the Construction and Engineering industry. From a brand new campaign leading the industry to carbon net zero, to plans being revealed for a £2bn tidal barrage. Below we round up the top news in November that made waves among different sectors.
​
Civil Engineering | 'What a waste' campaign launches to lead the industry in becoming carbon net zero
James Maclean CEO of Land & Water campaigns to drive the civil engineering and construction industries to reach Net Zero faster and more efficiently.
To assist these industries in reducing their carbon footprint, James launched the 'What a Waste' campaign. The campaign will look at eight areas that each sector can tackle to reduce the time, resources and energy that are wasted every year. These eight areas are:
Planning and Coordination - Planning and coordinating projects efficiently lead to an increase in productivity.

People's time - Understanding how we use our time to become more efficient and effective onsite.

Quality & Rework - By getting projects right the first time, we reduce the amount of rework having to be done.

Damage and abuse - Equipment is carbon embedded, so if it can no longer be used it leads to waste in carbon and money.

Energy & travel - Looks into how detrimental diesel and fuel are on site. It also looks into idle time and how machines only spend a quarter of their working hours being productive.

Weather - How civil engineering and construction industries work both with and against the weather to improve efficiency.

Packaging and Materials - What resources are we using on-site and how are we using them?

James Maclean commented:"We all have the ability (at every level and within every role) to respond to waste and it's time the industry took action in order to drive down our impacts and act with responsibility"
Read here to find out more.
​
Highways | West Sussex road surface improvements completed in just six months
Road surface improvement schemes worth £7.4 million, were successfully completed at 297 sites in West Sussex, lasting over six months. Spanning from April to October, 138km of road was completely resurfaced and had micro-asphalt treatments or surface dressing. The improvement scheme will result in more reliable journeys and improve conditions on the roads to prolong their lifespan.
The three different projects completed were:
38 resurfacing schemes totalling an investment of £3.4 million

46 sites received surface dressing treatment, investing £2 million

At 113 sites, micro-asphalt treatments were used, totalling a £2 million investment
Cabinet Member for Highways and Transport, Joy Dennis commented; "Potholes are a big source of frustration for all road users, and in the six months from April this year, approximately 22,000 were filled by our Highways teams and contractor. But we are also taking a holistic approach to the condition of our roads, with whole roads and larger sections completely resurfaced to make them more resilient to potholes, and vastly reduce the need for small-scale, disruptive repairs.
Micro-asphalt and surface dressing methods have also been deployed on suitable roads as cost-effective ways of improving and prolonging their lifespan."
Read here to find out more.
​
Highways | Long-awaited A57 Link gets the green-light
National Highways have been given the green light to start construction on the long-awaited A57 road link. The two-mile bypass will run from the roundabout at the end of the M67 to a new junction on the A57. The project will redirect thousands of vehicles away from Mottram. Aiming to open in Spring 2025, the new link aims to provide more reliable journeys for thousands of commuters.
National Highways delivery director for projects in the North West, Stewart Jones, commented; " This news is a real landmark - not least for everyone living alongside the existing A57 who has had to put up with rising congestion, road noise, pollution and disrupted local journeys over the years as vehicle numbers have risen.
The project will also provide relief for thousands of commuters, hauliers and other drivers who rely on the vitally important Manchester to Sheffield route every day and we're looking forward to the spring when we can start building"
Read here to find out more.
​
Construction | Funding deal to unlock £400M Manchester South Improvement scheme
​Landsec strikes a deal with Mayfield Partnership to fund phase 1 of a £400m mixed-use scheme on the south side of Manchester city centre. The new deal will allow Landsec to start drawing land for two office buildings named 'The Poulton' that will total 320,000 sqft, including a 581- space multi-storey car park. The project had planning consent granted way back in January 2020, but can finally begin construction on-site in 2023.
The first office is predicted to take 24 months to be delivered, which will include the 76,000 sqft Poulton and car park. The project joins the larger 6.5-acre scheme for Mayfield Partnership, which opened to the general public in September.
Let's take a look at the overall plan for the Mayfield Partnership Scheme:
More than 1,500 homes to be built

1.5m sqft of commercial office development

Significant retail, food and leisure space built around 13 acres of public green space
Read here to find out more.
​
Water | Plans revealed for £2bn tidal barrage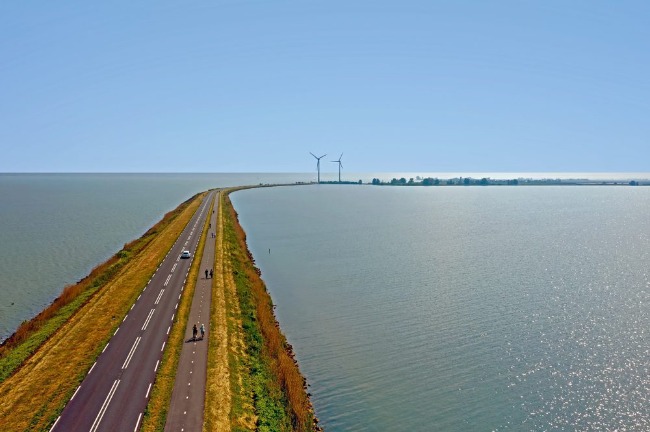 Plans have been revealed for a £2 billion tidal barrage that will span across 'The Wash', a bay in East Anglia that lies between Lincolnshire and Norfolk. The tidal barrage will feature the world's first tidal energy-powered deep sea container terminal that will act as flood defence. The dual carriageway that lies atop the barrage will cut the journey time from 2.5 hours to just 20 minutes from Lincolnshire to Norfolk.
Creating over 1,000 job opportunities both before and after construction, including more than 300 full-time skilled job opportunities being created in Lincolnshire. The project will open the door to the construction industry for young people.
Chief executive of Centre Port Holdings, James Sutcliffe, commented: "The local environment is seriously at risk from climate change. Our mission is to retain the Wash boundaries, its wildlife and ecology and to minimise climate change impacts that could devastate these sensitive areas."
Read here to find out more.
​
Utilities | Tideway's 'Super Sewer' ventilation columns built along Victoria Embankment
Super sewer ventilation columns are installed along the Victoria Embankment part of the Tideway London scheme, a large-scale project building a 25KM super sewer under the Thames to intercept the overflow of sewage in the Capital.
Being installed for the first time, the bronze super sewer ventilation columns have been placed on the central section of the super sewer project. The columns will work as an exhaust system as they will remove air displaced by flows into the sewer.
Altogether, there are nineteen ventilation columns needed across the project in order to regulate gases within the super sewer. With some already in place, each column is inscribed with newly commissioned poetry that looks at local heritage and the 'lost rivers' of London. At the Victoria Embankment, two poems refer to the River Tyburn, one of the lost rivers at the capital.
Read here to find out more.
​
Utilities | Anglian Water invests in new pipelines to protect the environment and water supplies.
Anglian Water has begun work on a new £12 million upgrade to the water network based in East Ruston in Norfolk. The new pipeline will assist in reducing the water taken from the local environment by more than 2 million liters per day, which will help to protect the local Broad Fen.
Head of Water Resources and Drought for Anglian Water, Sarah Underhill, commented: "Projects like the one in East Ruston means that we can reduce the amount of water we take from the most sensitive places, protecting our local fens and marshes, while also ensuring everyone in our region has a resilient supply of clean drinking water now and in the future.
The project is expected to be completed in 2024 and will see 16km of new water pipes that will be installed between East Ruston and Horstead. Engineers working on the project will install pipelines in fields, using a drilling technique that minimises digging. Using this method will minimise disruption for customers and reduce the carbon footprint for the project.
Read here to find out more.
​
Rail | UK firm Alstom builds monorail for COP27 host country Egypt
Built in Britain at Alstom's Derby factory, the first twelve monorail trains built for Cairo's Monorail project have been exported to Egypt.The factory is part of a £2.3 billion contract which will see 70 four-car monorail units built at the manufacturer's East Midlands site.
The first units that have been delivered to Cairo will start to be tested by Egypt's Ministry of Transport. Cairo's monorail project will be fully automated and driverless, including the capacity of being able to transport 45,000 passengers per hour in both directions upon completion.
Mike Hulme, Site Managing director at Alstom, said; "I'd like to think in the future we could secure this technology for some of our larger cities."
Read here to find out more.
​
Rail | Scotland's hydrogen train project looks back to the future
Aiming to change the future of rail, Scotland's new project will transform a retired ScotRail class 314 electric to a hydrogen-powered unit. Hydrogen is a cleaner and greener alternative to diesel for rail, This will work amongst ScotRail's project to completely decarbonise the Scottish railway network.
The new innovative hydrogen train in Scotland has successfully completed the next phase of testing, the testing took place at the Scottish Rail Preservation Society, which included various workshops, in order to define future strategies for rail decarbonisation in Scotland.
Read here to find out more.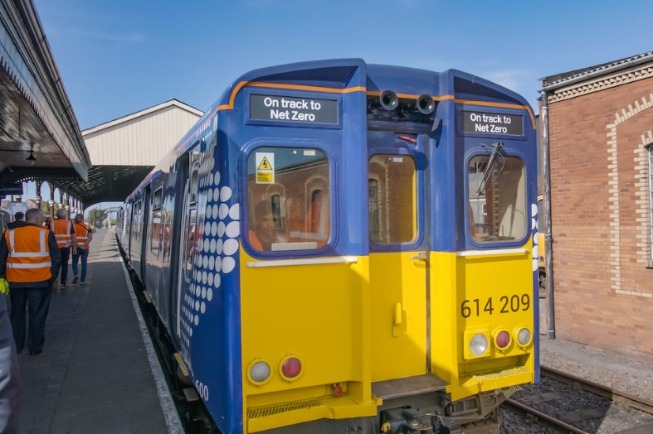 ​
Infrastructure | Battersea Power Station'-s next phase 'Office 50 Electric Boulevard' launches
Battersea power station has unveiled the newest phase of the large-scale project, commercial office '50 Electric Boulevard' to be completed in summer 2023. The next phase aims to take advantage of the significant supply-demand imbalance for highly sustainable new office spaces, which will include state-of-the-art digital and well-being amenities.
CEO of Battersea Power Station Development Company commented;"Foster + Partners has designed an incredible architectural structure at 50 Electric Boulevard, which focuses on state-the-art tech and bringing the outside in, with biophilic design permeating throughout the building to encourage employee wellness and mindfulness."
Read here to find out more.
​
We are passionate about seeing new projects, technologies and developments innovate the Construction and Engineering industries we work within.Join us next month when we take a look at the newest and latest developments that happen in the industry for December.

​
​
​