In the coming weeks, we will delve into an in-depth analysis of the UK's most notable infrastructure projects to ascertain their current status. Our comprehensive investigation will encompass Crossrail, Tideway, Hinkley Point C, the redevelopment of Battersea Power Station, the Stonehenge Tunnel, HS2, the Leeds Flood Alleviation Scheme, and Birmingham's Big City Plan. This week, we embark on an in-depth exploration of the HS2 project—an ongoing endeavour in the UK that involves the construction of a high-speed railway line. Join us as we delve into the details and uncover the intricacies of this ambitious infrastructure development.
​
What is HS2?
HS2, short for High Speed 2, represents Britain's groundbreaking high-speed rail line, stretching from the southernmost point of London to the northernmost point of Manchester. As Europe's largest infrastructure project, HS2 encompasses the integration of new rail lines and upgrades across the entirety of Britain's rail system. The project has been divided into three distinct phases, each with its specific objectives.
Phase one primarily focuses on enhancing connectivity between London and Birmingham, with anticipated completion by 2031. Phase two A extends this connectivity to encompass branches connecting Manchester, Birmingham, and subsequently reaching East Midlands Parkway. The final phase, phase two B, will culminate in the completion of the railway line to Manchester, the North, and the East Midlands.
HS2 is committed to contributing to a greener planet, and to this end, the trains operating on this rail line will rely on zero net carbon emissions from the very first day of operation in 2035. This eco-friendly approach provides users with a faster and more sustainable alternative to traditional modes of transportation, such as cars and flights, which release harmful emissions into the atmosphere.
Furthermore, HS2 presents an exceptional opportunity for employment, with over 30,000 job openings anticipated. The project aims to bring together the finest talents from the UK workforce to deliver, design, and construct this innovative railway system. By revolutionizing Britain's railway infrastructure, HS2 seeks to reduce carbon emissions, increase capacity for local services, and stand as the nation's most ambitious project to date.
​
Contractors Involved in HS2 so far
Enabling works contractors are:
Costain

Skanska Construction

Main works contractors are:
Consultants are:
​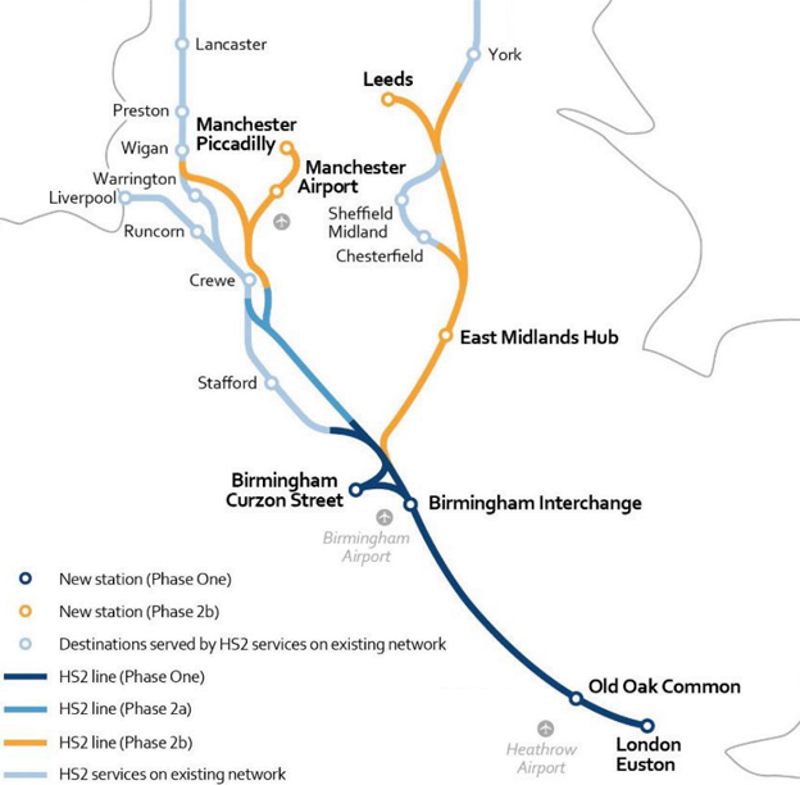 ​
​
History of HS2
2009 - Transport Secretary announces investigation into a new high speed railway
2012 - Transport Secretary announces HS2 will go ahead.
2013 - Safeguarding for Phase One is initiated
2014 - Market Engagement for Phase one is launched
2016 - Government announce preferred route for HS2
2017 - Contract winners are announced for the construction of project
2018 - Preparation for building railway begins
2020 - Phase one main civil works begins
2022 - Tunneling begins on Northolt tunnel
2029 to 2033 - London and Birmingham leg due to open
2035 - 2040 - Second phase due to open

Where is HS2 currently?
A little over a month ago, HS2 achieved a momentous milestone by celebrating its first historic tunnelling breakthrough. Located in Warwickshire, a colossal tunnel boring machine successfully completed the construction of the first underground tunnel within the HS2 project. This achievement marks a significant advancement for the project.
The construction of the new high-speed rail line encompasses a distance of 170 miles, extending from Crewe to London. All three stages of the project are currently under construction, and the completion of the entire endeavour is expected to span over two decades. The main civil construction works are now underway at more than 300 sites scattered between the West Midlands and London. This extensive construction effort signifies the magnitude and scale of the HS2 project.​.
​
​
​
HS2 In 2023
June 2023
In June, HS2 unveiled the huge tunnel boring machine ready to dig HS2's Bromford Tunnel in the West Midlands.A tunnel boring machine (TBM) weighing 1,600 tonnes and stretching 125 meters in length is set to construct HS2's Bromford Tunnel in the West Midlands.
This TBM has been named 'Mary Ann' in honourof author George Eliot, whose real name was Mary Ann Evans and was born in Nuneaton, North Warwickshire. The 3.5-mile tunnel will serve as a pathway for high-speed trains travellingbetween Water Orton and Washwood Heath, connecting them to Curzon Street Station in Birmingham.
​
July 2023
In July, HS2 celebrated the UK's heaviest bridge drive near Lichfield.The structure, measuring 56 meters in length and 19 meters in width, has been constructed to facilitate the passage of Britain's new high-speed railway underneath the existing railway line. This new route stretches from north of Birmingham Curzon Street Station up to Crewe.
July also saw HS2 extend plans for the network to Manchester to move forward.The presentation of Additional Provision 2 (AP2) marks a significant step in the parliamentary procedure. This progress is essential for maintaining HS2's timeline to launch the Crewe – Manchester extension between 2035 and 2041. It ensures the extension of zero-carbon rail services to Manchester's two new dedicated HS2 stations at Manchester Airport and Piccadilly.
​
August 2023
In August we saw the HS2 project achieve different accomplishments, some of these were:
HS2 completing the first giant pier for Water Orton Viaducts
The initial 18-meter tall pier has been finished for the two 1,400-meter-long Water Orton Viaducts in Warwickshire. These viaducts are a part of the HS2 Delta Junction project, involving intricate construction over existing roads and rivers, and they will be constructed using an innovative 'match-casting' technique.
​
HS2 completes key Colne Valley Viaduct span during three-week road closure
Moorhall Road in Harefield reopened following the completion of a critical 40-meter section, which will be a part of the impressive Colne Valley Viaduct within the HS2 high-speed rail project.
The road closure was strategically scheduled during the school summer holidays to minimise disruption to the local community. During this time, HS2 engineers safely used cranes to lift eleven segments, each weighing between 115 and 130 tonnes, into place over the road. These segments were subsequently reinforced with internal steel cables to finalise the span.
​
HS2 'marathon' bridge construction completed near Lichfield
HS2 successfully finished an extensive construction effort in Streethay, near Lichfield, as a crucial step in an inventive project to prepare for the new high-speed rail line in the UK.
This operation, featuring advanced low-carbon design techniques, included tasks such as excavating 14,000 tonnes of soil, erecting a 140-meter-long retaining wall, and relocating a 2,600-ton bridge deck 130 meters to position it under the South Staffordshire freight railway.
​
Where is HS2 at currently?
Recently, Planners have given the green light for an environmentally-friendly road bridge to go over the HS2 line in Birmingham. The new bridge design has been carefully crafted to blend in with the local surroundings.
Birmingham City Council has granted Schedule 17 planning approval to HS2 Ltd for the Aston Church Road Overbridge. This bridge will stretch across the high-speed rail line connecting Saltley, Washwood Heath, and Nechells in the northeastern part of Birmingham.
Originally, the bridge designs were shown to the public in 2021, and feedback from the locals led to some changes. These changes include making the walkway wider to accommodate cyclists and improving the lighting.
The lighting will use LED technology to provide better visibility for pedestrians and cyclists, making their experience safer and more pleasant. At the same time, it will minimise light spillage onto the trains below. This lighting strategy also benefits wildlife, especially bats that may be found underneath the bridge, by reducing overall light pollution.
Work to prepare for the new bridge began last year. Now, the primary construction work is set to begin, with the bridge and related road improvements expected to be completed by the summer of 2025.
​
What can we expect when the project reaches completion?
Once operational, HS2 will link more than 25 stations and connect approximately 30 million people. This high-speed rail network will greatly enhance transportation in the North and Midlands regions, while also integrating with the current rail system that serves stations in Scotland. This integration is expected to generate 500,000 additional jobs and lead to the construction of 90,000 homes around HS2 stations.
​
The Numbers
25,000 job opportunities

More than 25 stations will be served

8 of Britain's largest 10 cities will be connected

225km of dedicated track in phase one

30 million people connected

​
Last week we took a look into Birmingham's Big City Plan, click here to find out more.
​
​