Today, we delve into the fascinating project of Co-Op Live, an expansive indoor arena under construction in the vibrant city of Manchester. Once completed, this extraordinary venue will proudly claim the title of the United Kingdom's grandest entertainment arena.
What is the plan for the new arena?
Co-op live arena is poised to claim the prestigious title of the United Kingdom's largest indoor arena, surpassing even the nearby Manchester Arena, which sits just under 2 miles away. With an ambitious vision for the future of the entertainment industry, Co-op Live is set to become a global standard-bearer for sustainability, innovation, and social responsibility.
This groundbreaking venue is designed to accommodate a staggering maximum capacity of 23,500 people, making it the largest indoor arena in the UK. It will host a wide array of captivating events, including live music performances, side-splitting comedy acts, engaging family entertainment, and exhilarating sporting spectacles. Its forward-thinking bowl design and state-of-the-art visuals will offer an immersive and unforgettable experience for attendees. Moreover, the arena will feature an impressive array of 32 bars and restaurants, ensuring that visitors can indulge in a variety of culinary delights.
In addition to its grandeur and cultural significance, Co-op Live is also an engine of opportunity, set to create over 3,000 construction jobs, including more than 1,000 roles and apprenticeships. This ambitious project will serve as a gateway for young individuals aspiring to enter the construction sector, providing them with valuable experience and a promising future.
​
How the project is becoming net carbon neutral
The Co-Op Live project is deeply committed to environmental stewardship, with a clear goal of achieving net carbon neutrality by 2038 and establishing a fully electric building. To realise this vision, the project will implement a range of sustainable measures, starting with the installation of expansive solar panels capable of covering an area equivalent to two football pitches. Additionally, air-source heat pumps will be utilised, minimising energy consumption.
The project's dedication to sustainability extends beyond energy generation. Co-Op Live aims to eliminate single-use plastic on-site, ensuring that no waste ends up in landfills. Rainwater collected on the premises will be maximised for various purposes. Furthermore, the environmental features of the venue include energy-efficient LED lighting, provisions for 240 cycle spaces to promote eco-friendly transportation, and the planting of 85 trees to enhance the surrounding greenery.
The integration of sustainable practices continues with the utilisation of approximately 10,500 square meters of solar panels, contributing to the venue's renewable energy generation. In a bid to combat food waste, Co-Op Live will ensure zero food waste, while dedicating 2,791 square meters of green space on-site. Additionally, the venue will stock Fairtrade ingredients, promoting ethical sourcing and responsible consumption.
Through its comprehensive environmental initiatives, Co-Op Live demonstrates its unwavering commitment to creating a sustainable and environmentally conscious entertainment venue.​
​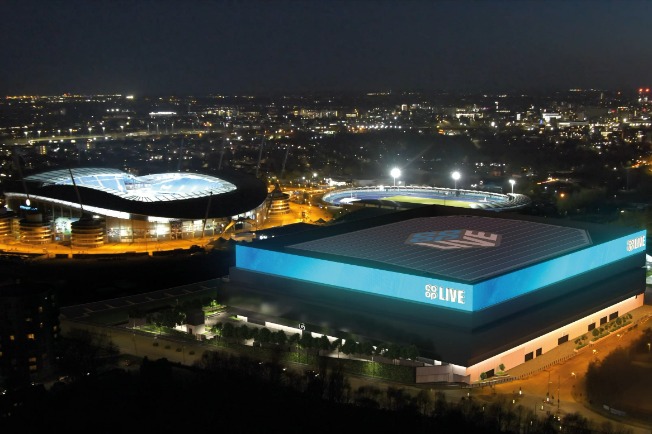 ​
Image sourced from:https://accessaa.co.uk/manchesters-co-op-live-to-become-uks-first-all-electric-arena/
​
Who's working on the project?
Developed by Oak View Group, partnering with The Co-operative Group

Venture partner also includes City Football Group who owns Manchester City.

BAM will lead construction on the project

Harry Styles is a lead investor on the project, to ensure the project delivers the ultimate stage for artists.

Schneider Electric is an official supplier of both hardware and software for electrical and building management systems.

Severfield is a steel contractor

Careys are working on sub-structures, steel frames and more large package works

Soluis built a fully interactive virtual representation of the arena.

Bristol Street Motors join the project by becoming a founding partner

Diageo is the official drinks partner

Britivic, Elavon Europe and Unilever join the project with sponsorship deals.

​
Co-op Live explained in numbers
750,000 extra ticket sales in the new arena

£365m invested in project

3,350 construction jobs

1,100 jobs when officially opened

£1.34bn and £1.50bn is estimated to be generated over a 20-year period from the two arenas operating.

£228m is the estimated cost for construction works on the arena.

32 bars, restaurants and lounges

120 major live events


​
The future of the project
Since its initiation in May 2021, the Co-Op Live project has been making remarkable strides towards completion, aiming to finalise construction by December 2023. Over 400 diligent construction workers are diligently pushing the project forward day by day, demonstrating their commitment to its timely execution. To witness the progress firsthand, I encourage you to visit the website and explore the mesmerising Livestream showcasing the construction process.
Excitingly, in April, the arena opened its bookings, signalling the official countdown to its highly anticipated opening. The inaugural events are scheduled to commence in December 2023, marking a momentous occasion. As discussions for events in the following year, 2024, gain momentum, it is expected that the initial dates for the venue's opening will be in high demand. With the entertainment industry recovering from the impact of the pandemic, the Co-Op Live arena promises to be a beacon of excitement and rejuvenation.
​
​
​