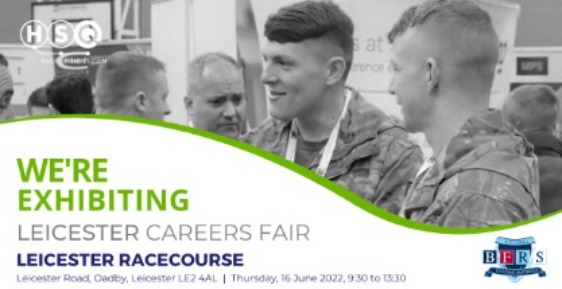 ​HSQ Recruitment is excited to announce its enthusiastic support for the upcoming British Forces Resettlement Services' National Employment & Armed Forces Careers Fair. The event, scheduled to take place on Thursday, June 16th, 2022, at the prestigious Leicester Racecourse, holds great significance as it aims to empower members of the Armed Forces Community (AFC) during their transition out of military service and into the next phase of their lives.
Looking back at history, it becomes evident that our nation has consistently relied on the dedication and expertise of the Armed Forces in times of crisis. A recent testament to their invaluable support is their commendable role in the Covid-19 pandemic. From facilitating the successful rollout of vaccines to providing vital personnel assistance in establishing temporary NHS Nightingale hospitals, the Armed Forces have repeatedly proven their indispensable value. It is crucial to acknowledge that the skills possessed by servicemen and women extend far beyond their military service. The cross-functional abilities and recognised qualifications they acquire during active duty hold tremendous potential for application across various engineering sectors.
At HSQ Recruitment, our specialisation lies in the recruitment of exceptional talent for the civil engineering, infrastructure, and construction industries. These sectors continue to grapple with a considerable skills gap, making the experience of ex-force personnel, particularly those hailing from the distinguished Royal Electrical and Mechanical Engineers (REME), an ideal fit for the technical requirements of civilian roles. Leveraging their diverse skill set and comprehensive training, these remarkable individuals have the ability to deliver tangible value to our esteemed clients.
Recognizing the significance of ex-military personnel, Neil Dean, the esteemed Managing Director of British Forces Resettlement Services (BFRS), highlights their unparalleled expertise and worth. In light of this, an increasing number of forward-thinking companies have embraced this wealth of experience, leading to over 60 organizations eagerly partnering with BFRS to exhibit at the highly anticipated National Employment & Careers Fair. Among the notable exhibitors are industry giants such as BAE Systems, who have graciously stepped forward as the Event Sponsor, as well as AIS Survivex, a Gold Plus Sponsor, and NASC, the esteemed Event Guide Sponsor.
With an impressive array of 60+ exhibitors in attendance, the fair promises an abundance of career and training opportunities for AFC members. This extraordinary gathering offers a unique platform where attendees can explore various resettlement options firsthand. At HSQ Recruitment, we eagerly await the opportunity to engage with AFC members, engaging in meaningful conversations about different career paths, presenting current job openings, and providing the vital support needed as they embark on their transformative journey beyond military service.
This collaboration between HSQ Recruitment, BFRS, and numerous esteemed companies is a testament to our shared commitment to ensuring a seamless and successful transition for the Armed Forces Community. Together, we look forward to empowering AFC members, guiding them towards a bright and prosperous future, and expressing our unwavering gratitude for their invaluable service to our nation.
​
​