Manchester's beloved Albert Square, a symbol of the city's identity, is currently undergoing an ambitious transformation as part of the Manchester Town Hall restoration project. The goal is to elevate this already iconic space to new heights, making it "bigger and better" than ever before. Over the years, Albert Square has played a pivotal role in the city's social fabric, serving as a central gathering place for protests, celebrations, and the world-famous Christmas markets. However, due to the ongoing restoration work on the historic town hall, the square has been temporarily closed off for an extended period.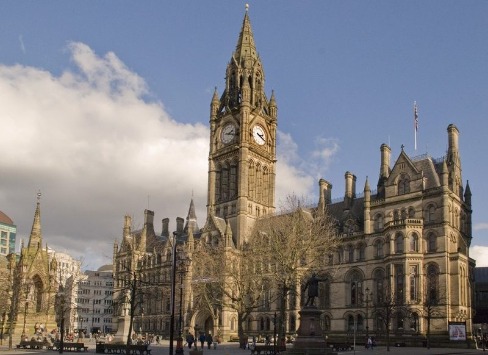 ​On Monday, October 25, a momentous milestone was reached as the initial steps were taken to reimagine and enhance Albert Square. The primary focus of the restoration efforts is to ensure the safety of its visitors by removing the characteristic Victorian cobbles and the long-standing concrete barrier that has encased the square for several years. The comprehensive plans for the site entail creating inviting al fresco seating areas for neighbouring bars and restaurants, reducing clutter, enhancing lighting, and establishing improved infrastructure for hosting various events, thus enhancing overall accessibility.
Preserving the square's rich historical charm while prioritising safety considerations, the traditional Victorian cobbles will be replaced with resilient granite sett paving. Alongside this, a route of York stone paving will be strategically integrated, carefully paying homage to the square's heritage. This meticulous selection of materials not only ensures a seamless blend with the past but also eliminates any potential tripping hazards, ensuring a safe and enjoyable experience for all visitors.
The restoration of Manchester's gothic town hall stands as the most significant heritage project currently taking place in the United Kingdom. In this grand endeavour, the transformation of Albert Square occupies a pivotal role. The timeline for redevelopment has been expedited to ensure its completion by the following year, providing a much-needed boost to the nearby bars and restaurants that have already suffered immensely due to the adverse impacts of the COVID-19 pandemic. However, it should be noted that the entire site will not be fully finished until 2024, owing to the ongoing work concealed behind the hoardings.
Cllr Bev Craig, Deputy Leader of Manchester City Council, expressed the profound importance of Albert Square as the vibrant civic heart of Manchester. It is a place where people come together to celebrate, socialize, and pay homage to significant events. The transformative works being undertaken will not only create a larger and more adaptable events space but also foster a more pleasant environment, promoting cleaner air quality throughout the year. With great anticipation, it is expected that the revitalized Albert Square will emerge as one of Europe's most outstanding civic spaces, adding to the city's allure while generating new employment opportunities for the people of Manchester. The restoration of this cherished square symbolizes Manchester's unwavering commitment to preserving its cultural heritage and ensuring a thriving future for generations to come.
​
​
​