​The construction costs associated with Everton Football Club's new stadium have been revealed in a council report, providing a breakdown of the figures for the project.
The report, submitted by Liverpool City Council's planning officer ahead of a meeting next week, shows that Laing O'Rourke, who won the project last year, will oversee construction with a value of £505m, which is expected to generate 8,136 construction jobs. The redevelopment of Goodison Park, Everton's current home, has been priced at £82.5m and is predicted to create 1,382 jobs. The report suggests that the scheme will trigger "wider catalytic" developments in land adjacent to the site, valued at £212m.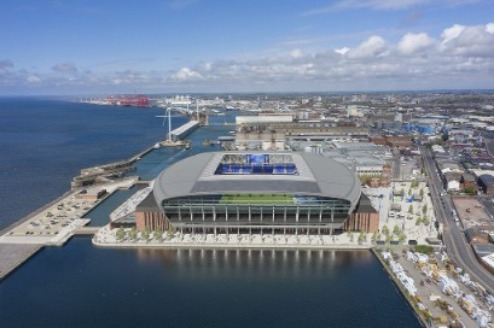 Wider project figures are significantly lower than the estimates given by Everton during its initial public consultation. The club had claimed that the scheme could serve as a "catalyst project" that would give a £1bn boost to the local economy, accelerating over £650m of local developments around the stadium.
The report also confirms that construction will commence in the first quarter of this year and run for roughly three years, with an anticipated completion date of 2024, which means it could be available for use during the 2024/25 Premier League season. Although Everton had expected t begin work sooner, they announced in August that additional consultation and decisions relating to third parties had been delayed due to COVID-19, forcing a delay until 2021.
Planning officer for the project has suggested that the council's planning committee approve both stadium development projects next Tuesday (25 February), which will be attended by Everton FC's chief executive, Professor Denise Barrett-Baxendale, and stadium director Colin Chong, who will directly present the project's case to the panel.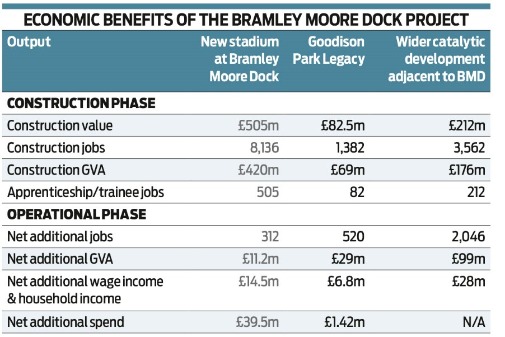 In a letter to fans ahead of the meeting, Barrett-Baxendale and Chong intended to; "underline how important this stadium is – not only to our football club but also to our city, our region and our country at such an unprecedented time in our history" when they speak to the panel.
If approved, the club's application will then go to ministerial sign-off. The stadium is the flagship project in the Liverpool Waters area of the city being developed by Peel Ports. The club had first signed a deal to lease land in the area known as Bramley-Moore Dock in November 2017, and the formal agreement runs for 200 years at a peppercorn rent. The new stadium represents a major milestone for Everton Football Club and its fans, as well as the wider community of Liverpool. Its potential to generate economic growth and create thousands of jobs has been widely touted, and the council report
provides a more detailed breakdown of the figures involved in the project. With the council planning committee set to make a decision next week, all eyes will be on the meeting as the future of the stadium hangs in the balance.
​
​
​