​
​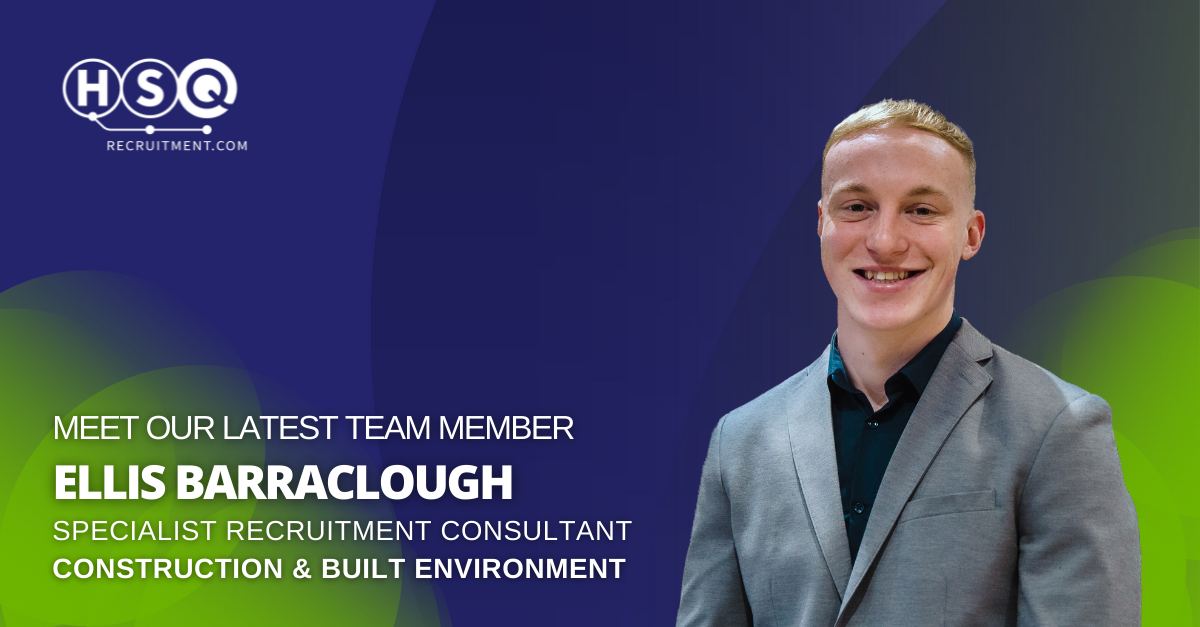 ​
​
HSQ Recruitment has welcomed Ellis Barraclough, who has joined the team to support our growth plans as we head into our second year. Ellis joins us as a Specialist Recruitment Consultant, supporting Elliot Barwick, our Construction Team Leader.​
Martin Spencer (Business Manager) says 'Recruitment is an exceptionally varied industry to work in, with it being people and service focused, every day is as varied as the candidates or the clients we're working with. Ellis has a great ability to understand people which has translated to already being able to fully understand his candidates and clients' needs and meet their requirements. The way he's been able to fit into our team so seamlessly has also been so important with HSQ moving into our second year of business.'
We recently caught up with Ellis to see how his first couple of months have been.
Can you give us some background on your career and what led to you joining HSQ Recruitment?
Prior to joining HSQ recruitment, I have undertaken an office-based career path which originated in the construction industry as an administrator, however I then ventured into a shareholder administration role before entering the recruitment industry. Throughout my career, I have gained many customer facing skills and an ability to provide a quality service to all candidates and clients I speak too. I approached HSQ looking for an enjoyable work environment to further develop my recruitment experience in an industry that excites me.
How have your first couple of months been?
My first few months at HSQ Recruitment have been brilliant. The office interior, the atmosphere, the plans for business growth and the training programme I am enrolled on are of a very high standard. I also receive on the job training from my team where I am welcomed to ask questions and always receive great answers to develop my industry knowledge.
​
Tell us about your role and responsibilities?
My role is to source and thoroughly screen candidates for a wide range of job titles across the various vacancies by actively searching the market for the best talent in the game. We operate in various construction related industries however my initial market focus will be construction and civil engineering. I am responsible for my own interviewing of candidates and creating there HSQ CV, basically the whole 360 cycle of a recruitment role. I have the freedom to approach new clients and create my own portfolio of business and expand the vacancies I actively recruit for. I am also responsible for building my presence in the construction industry and growing my personal brand. Ultimately, I would like to build positive working relationships with the organisations I partner with and maintain a high reputation with candidates through being credible and authentic.
What aspects of your role are you most excited about and what are you looking forward to?
I am keen to begin visiting clients and getting the HSQ name promoted amongst the construction industry. It will also be a great day when I successfully pick up a new business client to work closely with and begin placing candidates at vacancies, I have acquired myself.
​
What initially attracted you to a career in recruitment?
The freedom of being able to work independently is an incentive to the recruitment path, as well as the ideology of the harder you work the more success you will have. I am a naturally talkative person, meaning I enjoy speaking to new people constantly from candidates and clients. The idea of a career in construction recruitment appeals to me as the people involved in the industry are hardworking genuine people who are passionate about their career path, also the industry is constantly growing and the capital being invested into it is incredible.
What would you say to anyone looking to start their career in recruitment?
Advice I would give would be to remain motivated and positive, every day is a new day in recruitment, and you have endless hours to manage your workload so remain organised and use your time effectively. In recruitment sometimes things don't go your way, like life outside of work – you need to remind yourself that good days wouldn't exist without bad days. As you are speaking to numerous candidates each day in the hope to find the perfect match to fulfil your client's needs, it is vital to maintain a positive persona and remain focused on the job role you are recruiting for. I would advise anyone to undertake a career in recruitment as it is highly enjoyable especially with the ace team at HSQ!