​Regional leaders have called on the prime minister to reject an option to downgrade HS2's eastern leg.
​The National Infrastructure Commission (NIC) has proposed terminating the line in Nottinghamshireas one of a series of options due to be considered by the government. The leaders of three councils have written to Boris Johnson to say the suggestion would be "devastating". The Department for Transport (DfT) has previously said it welcomed the report.
​'Not fit for purpose'
​The NIC - an independent body set up to advise the government on infrastructure funding - made the recommendations as part of its Rail Needs Assessment (RNA) for the Midlands and the North. The option to downgrade the eastern side of Phase Two - linking Birmingham to Leeds - could see it terminate at East Midlands Parkway station in Nottinghamshire. But Nottinghamshire County Council leader Kay Cutts, Leeds City Council leader Judith Blake and Sheffield mayor Dan Jarvis said the NIC's suggestions "would be a devastating outcome" for cities and communities where the line was due to go. These include Toton, in Nottinghamshire, Chesterfield, in Derbyshire, and Sheffield and Leeds.
​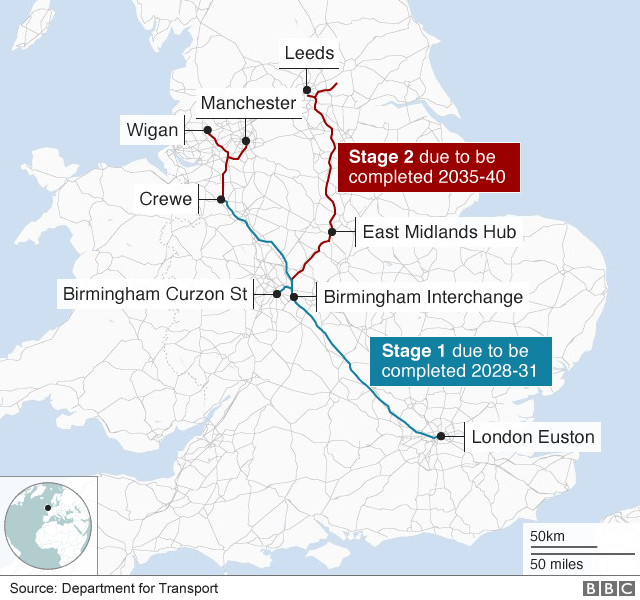 ​In their letter they state: "We wholeheartedly reject that report and urge the government to do the same. "The NIC report is not fit for purpose - they were tasked with integrating these projects, not pitting them against each other." The leaders said the options presented in the RNA would "seriously inhibit economic growth and rebalancing". They called on the government to set out a timescale of when the eastern leg would be delivered "in full" and claimed each year the project was delayed was costing the North and Midlands £4.9bn. An NIC spokesperson said it had offered the government a set of options for improving rail connectivity for the North and Midlands. "Our analysis showed that prioritising regional rail links would likely deliver the highest economic benefits to the North and the Midlands, more quickly," he said. "Planned rail investment in the North and the Midlands overall needs to increase. The level of additional funding made available for rail investments nationally is a decision for government." The DfT has said it plans to publish its Integrated Rail Plan in early 2021.
​
​